Rabbit does do not feed their newborn rabbits often. They come to the nest only once or twice a day. Feeding time is short a few minutes at most. The portion of milk taken in by healthy newborn is sufficient for the next 24 hours. The rest of the day, the newborn stay deep in the nest, and keep warm by cuddling together. After about 22 hours, they become active and will move together to the surface of the nest.
The doe stays in the vicinity of the nest, but will enter it during feeding time. This does not relate to a lack of maternal instinct, but this way she avoids attracting the attention to her nest and avoids signals for carnivorous or prey animals. After carefully checking the environment, she will enter the nest carefully and place herself over her offspring, to allow them to feed.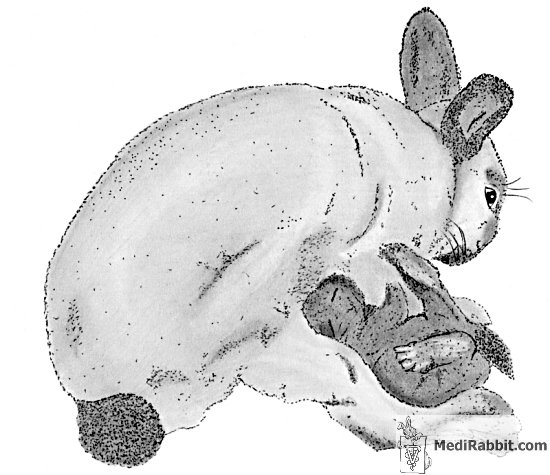 Illustration: property of MediRabbit.com, after a picture from Karen Comish
Week old rabbit drinking milk
During the feeding session, the suckling rabbits attach within 3 to 9 seconds to a nipple, successfully. During the feeding time, the kittens change place and nipple at intervals of about 1 minute. This remains unchanged till they reach the age of 15 to 20 days old, when attachment to nipple covered with saliva was more rapid, in comparison to those without saliva.
After 3 to 5 minutes, the doe leaves the nest. The kittens will urinate, then burry again together in the nest for 22 hours.