Rabbit does do not feed their newborn rabbits often. They come to the nest only once or twice a day. Feeding time is short a few minutes at most. The portion of milk taken in by healthy newborn is sufficient for the next 24 hours. The rest of the day, the newborn stay deep in the nest, and keep warm by cuddling together. After about 22 hours, they become active and will move together to the surface of the nest.
The doe stays in the vicinity of the nest, but will enter it during feeding time. This does not relate to a lack of maternal instinct, but this way she avoids attracting the attention to her nest and avoids signals for carnivorous or prey animals. After carefully checking the environment, she will enter the nest carefully and place herself over her offspring, to allow them to feed.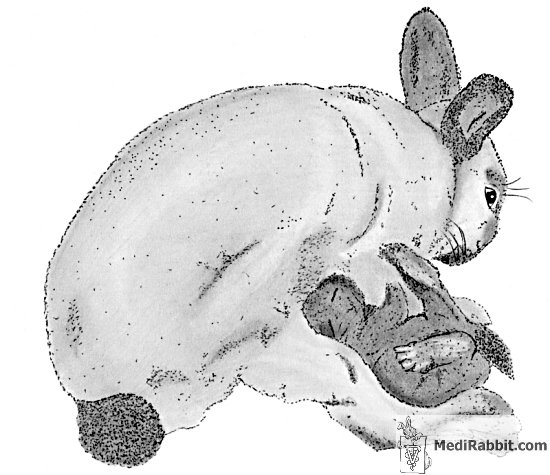 MediRabbit.com, after a photograph by Karen Comish
Week old rabbit drinking milk
During the feeding session, the suckling rabbits attach within 3 to 9 seconds to a nipple, successfully. During the feeding time, the kits change place and nipple at intervals of about 1 minute. This remains unchanged till they reach the age of 15 to 20 days old, when attachment to nipple covered with saliva was more rapid, in comparison to those without saliva.
"5 day old bunny feeding", video by Linda Baley.
A newborn crawling over the belly of the doe, moving from one nipple to another to feed.
After 3 to 5 minutes, the doe leaves the nest. The kits will urinate, then burry again together in the nest for 22 hours.
Chemical composition of rabbit's milk (after Coates et al., 1964. Brit J. Nutr, 18, 583-586):
Constituents

Colostrum

4th day

1st week

18th day

3rd week

Total solids (g/100g)

32.6

32.1

31

36

25.7

Fat (g/100g)

17.7

10.2

14.3

15.2

12.3

Lactose (anhydrous) (g/100g)

1.32

1.76

1.29

1.28

1.12

Protein (total N*6.38) (g/100g)

-

-

13.2

-

11.9

Potassium (mg/100g)

186

212

-

145

-

Sodium (mg/100g)

123

82

-

160

-
Vitamin content (mg/ml) of rabbit's milk at different stages of lactation
Vitamin

Colostrum

4th day

1st week

18th day

3rd week

Biotin (Vit B7, formerly H)

0.08

0.17

0.23

0.45

0.14

Folic acid (Vit B9)

0.003

0.013

0.10

c. 0.30

-

Nicotinic acid (Vit B3)

2.0

7.0

8.4

4.9

8.7

Calcium pantothenate

14.3

22.1

15.8

14.5

7.3

Riboflavine (Vit B12)

2.9

2.3

2.3

4.6

2.8

Thiamine (Vit B1)

0.3

0.6

1.7

1.6

1.7

Vitamin B6 (as pyridoxal)

0.9

2.1

2.9

3.6

2.5

Vitamin B18

0.11

0.11

0.09

0.07

0.05

Vitamin A

6.70

3.05

2.71

1.82

0.84
At the age of 10-15 days, kits start to nibble solid food, e.g. pellets, and/or hay more and more, and in bigger quantity. This does not mean that the newborn can be weaned yet.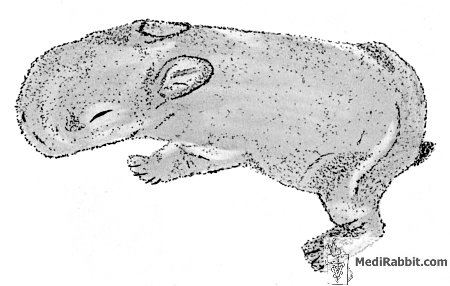 MediRabbit.com, after a photograph by Karen Comish
Newborn rabbit aged one day
Indeed, the maturation of gastro-intestinal system is not yet finished. During the first weeks of the life of newborn rabbits, the stomach and anterior portions of the intestine remain mostly sterile (devoid of intestinal bacterial flora). This is unique in the animal world. The pH of the doe's milk ranges between 5 and 6.5. This level of acidity allows bacterial survival, as well as growth and colonization of the intestine and cecum. Rabbit milk is also rich in C8 and C10 fatty acids that have bacteriostatic properties, inhibiting growth of bacteria in the digestive tract, of the newborn. These molecules are sometimes referred to as "milk oil", and their activation needs two parameters: milk of the doe and stomach of the suckling. This protects day-old newborn against the growth of pathogen bacteria and, thus, prevents the onset of necrotizing enteritis or generalized sepsis. Bacteria that are absorbed at the time of birth and via the milk will survive the passage through the stomach and intestine and will accumulate in the cecum and the final section of the digestive system (colon) and rectum.
At the age of 10-15 days, newborn rabbits become strong, inquisitive and leave the nest. They start nibbling solid food (hay, fresh vegetables, pellets) as well as the hard feces of the doe. Up to the age of 6 weeks, young rabbits gradually decrease milk intake. As a result:
- The concentration of C8 and C10 fatty acids (milk oil) decreases in the anterior digestive system;
- The pH of the stomach drops from about 5-6 down to 1-2, becoming a barrier for colonizing bacteria and killing ingested bacteria; 
- Microorganisms that were ingested previously and survived in the cecum and lower portion of the intestine and rectum will start to multiply.
Translocation (spread) of intestinal bacteria from the rectum up to the upper portion of the small intestine (duodenum) becomes possible. When the right bacteria are present, proper digestion and fermentation of solid food becomes possible. This process takes a few days to weeks.
The different stages of bacterial colonization of the digestive tract are very important, but also very delicate. Indeed, microorganisms that develop inside the GI tract depend on the type of diet, hay, stress. Colonization of yet sterile portions of the intestine by pathogen bacteria such as Clostridium sp. will lead to organ failure, necrotizing enteritis, diarrhea and (fatal) enteric trouble or sepsis.
It is therefore important to keep the newborn rabbit with the nursing doe up to the age of 8 weeks, and not separate them earlier at 6 weeks or even younger. Once the complex microbial flora has colonized the GI tract, it will help prevent the development of pathogen bacteria.
Acknowledgements
Many thanks to Karen Comish and Linda Baley for the permission to use their material.
More information
Anderson LC, Rush HG, Glorioso JC. Strain differences in the susceptibility and resistance of Pasteurella multocida to phagocytosis and killing by rabbit polymorphonuclear neutrophils. Am J Vet Res. 1984; 45(6):1193-8.
Coates ME, Gregory ME, Thompson SY. The composition of rabbit's milk. Br J Nutr. 1964;18:583-6.
Dinsmore JE, Jackson RJ, Smith SD. The protective role of gastric acidity in neonatal bacterial translocation. J Pediatr Surg. 1997;32(7):1014-6.
Glass RL, Troolin HA, Jenness R. Comparative biochemical studies of milks. IV. Constituent fatty acids of milk fats. Comp Biochem Physiol. 1967; 22(2):415-25.
Harcourt-Brown F. Textbook of Rabbit Medicine. Butterworth Heinemann, Oxford, 2002, p 55-56.
Ogawa M, Shimizu K, Nomoto K, Takahashi M, Watanuki M, Tanaka R, Tanaka T, Hamabata T, Yamasaki S, Takeda Y. Protective effect of Lactobacillus casei strain Shirota on Shiga toxin-producing Escherichia coli O157:H7 infection in infant rabbits. Infect Immun. 2001; 69(2):1101-8.
Schley P. Rabbit milk - composition and withdrawal of samples, Berl Munch Tierarztl Wochenschr. 1975; 88(9):171-3.
Van Camp JM, Drongowski R, Gorman R, Altabba M, Hirschl RB, Coran AG. Colonization of intestinal bacteria in the normal neonate: comparison between mouth and rectal swabs and small and large bowel specimens. J Pediatr Surg. 1994;29(10):1348-51